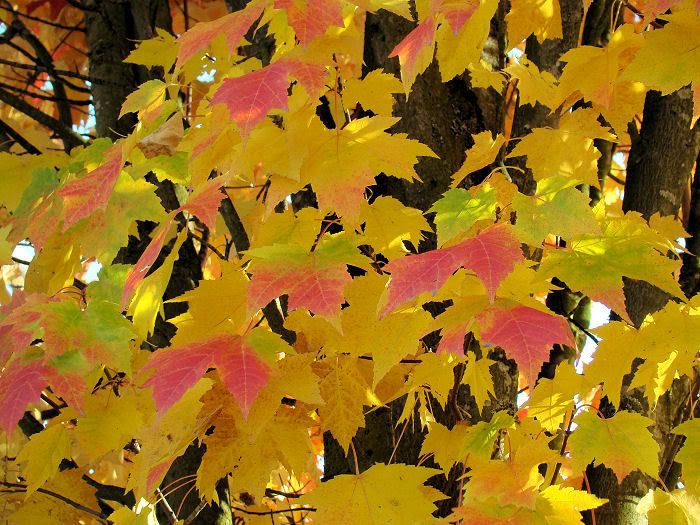 Now, if that wasn't a self-explanatory title, I don't know what is...
Every year, those of us in temperate climates are treated to a spectacular natural fireworks show. And every year, I mean to experience this show more fully - going out to the passes or something to see the mountain leaves - but I almost never do. There's always a reason. The weather's bad. The car's acting up. We should coordinate with the rest of the family. Maybe we shouldn't. Maybe we should. And then the leaves are gone and winter's here and we have nothing to show for it.
For Project Halloween Thing, I've spent the last two or three weeks searching for good autumn leaves. Not crinkly brown things, not spotted broken things, but good, honest autumn leaves. Leaves with good color and good shape. Leaves without conspicuously missing parts or holes. Leaves that weren't too huge or too tiny. I found a few outside work, and a few more on my walk, but I hit the mother lode of autumn leaves at the local lakeside state park. We were going there to meet my uncle and my grandfather for an impromptu it's-a-sunny-weekend-day-so-let's-have-a-KFC-picnic-before-the-weather-turns gathering. The ground was covered in perfect autumn leaves. These weren't just a flat color, or just one side or the other of peak, like most I'd seen. These were beautiful. Patches and veins and streaks of color. Nice crisp edges and stems. I think I could've spent a whole day just looking at all the leaves in that part of the park. We've had other autumn picnics over the years, and a few halfhearted family leaf excursions, but I don't think I've ever really appreciated autumn leaves until that day in the park.
Not long after, on the drive out to work, the morning sun caught the broadleaf maples along the freeway corridor in a manner that just made them glow with a beautiful golden-yellow light. There was just a hint of mist in the air to catch the sunbeams, and the whole interstate was just ablaze with autumn color, offset with the deep green of the evergreens. It was one of those sights that made you wish you could pull over and paint it. Except I didn't want to get creamed, and I didn't have the time. Or the paint. Oh, yeah, and I don't know how to paint. (It would've made for an interesting call in to work, though...)
A few days ago, Mom and I went out looking for leaves to photograph. It wasn't our only reason for going out; there was a local rock & gem show, and we had a few errands to run anyway. But we brought our cameras, intending to pull over and snap pictures if we saw any leaves worth a photograph. We drove all over in a relatively aimless pattern. Every tree we saw was either just before or just past prime. Every turn we took took us somewhere we didn't necessarily need to be. In the end, we wound up right back where we started, in our hometown. One of the main drags is lined with deciduous trees that simply blaze away in the autumn, each hitting peak at a different time so the chlorophyll light show lasts and lasts. We parked at a shopping center and strolled along a short but colorful stretch. This is just one of the many pictures I took that day; I'll spare you the rest. (That was also the day we saw a fire truck being towed away. I'd never seen a fire truck broken down before; I always assumed/hoped they were so overbuilt and so well maintained that mechanical breakdowns didn't happen they way they did to the rest of us. Part of my perfect illusory world has been destroyed.)
No, I didn't just write a blog post to irritate you with pointless tales of autumn leaves. I'm posting to irritate you with pictures of Project Halloween Thing, which is essentially finished. I might still end up throwing on some glitter or a few more leaves, but this is basically it:
The Front
The Back
Only had a couple iron-on blips, but for the most part it worked suspiciously well. I was a bit nervous, as the colors looked dull when I printed them out, but they brightened up once I slapped them on the denim shirt. I have some leaf transfers left over; I'll look at the shirt again in a while and see if I see any conspicuous gaps that could use a leaf.
OCTOBER 31 UPDATE
Well, despite what I said in the Comments previously, I couldn't resist. So I swung by Michael's after work, went out to the family function Thursday night (Grandpa's 90th birthday), and when I got home...
The glitter-embellished final version
It's hard to see, but the glitter on the talons, beak, and pumpkin is gold, not purple. I also added a small, subtle streak of glitter to the main veins of the leaves. I would've done more with the leaves, but I was running out of time, as I had to be up extra-early on Halloween for a work function. (They had a breakfast thing at work before the shift. I'm willing to feign sociability if food is involved.)
As a footnote, after all that work, only a few people at work actually noticed the guy. Oh, well... I finished it, and that's the part that matters.