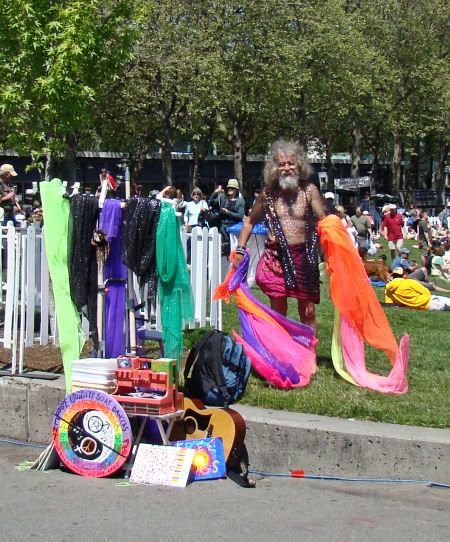 Another Memorial Day Weekend, another Northwest Folklife Festival down at Seattle Center, and another round of exceptionally pointless photographs in a rambling blog entry to commemorate the occasion. (No, this has nothing to do with the fact that I'm stuck on this year's camp logo... nothing at all... really...)
In any event, the weather cooperated remarkably well. Temperatures were in the 70's, which is infinitely better than the rainy 50's/60's or the blistering 90's we've had in previous years. Crowds seemed decent enough, but with fewer vendors and seemingly thinner stage selections it felt a trifle sparse around the edges. But it was still Folklife, as witness the Scarf Man. It ain't Folklife unless you see the Scarf Man. (He used to dance up by the Celtic stage when it was all Celtic stuff; now he hangs out on the lawn by the fountain and sells scarves rather than just dancing with them.)
We ate food and watched shows and wandered about, as usual. The following images are offered in no particular order.
Alien Instrument
Folklife features music and performers from around the world... and beyond it, as clearly evidenced here. The extra neck and strings on this extraterrestrial guitar are evidence of multiple limbs which were hidden by this scout's human form.
More Alien Evidence
No human mind could conceive of this complicated scientific instrument, which appears to be a
solar-powered windmill
. Whether or not the architects of this device are of the same species as the guitar player, I was unable to determine.
Bad Time to Take A Call
"So what're you doin'? .... Me? Oh, not much - playin' with my band ... My
band
! ... Yes, I'm playing right now! ... Oh, okay, I guess ... Nah, my solo's not for a while yet. So, what're you doin' now?"
Maybe it's just me, but if your own band bores you to the point where you'd rather talk on the cell phone than pick up your instrument and play, perhaps it's time to wrap things up.
How to Bore a Child
So, imagine you're a kid and your parents are going to take you to the museum. Not just any musuem, but a museum just for you! This, I would say, would have to be the biggest rip-off of all time. (Or maybe I grew jaded during my stocking days...)
Nordic Ship
A replica Nordic ship was on display up by the kiddie area. I cannot imagine having to spend days, weeks, perhaps even months on end in one of those things (if the Vikings-in-America theory is indeed correct.) And the fire hydrant? Well, that is a dragon head on the front - probably a wise precaution.
The Galway Ramblers
We had to sit through a couple iffy groups to get to them (including a Finnish dance band that not only didn't know the names of their own songs but seemed unable to agree on a tempo or pitch between them), but the
Galway Ramblers
turned out to be fairly decent. Their harpist is a world-class player, and the rest aren't bad, either.
The One-Man Band Man
Another fixture of Folkife is the one-man band guy. The picture pretty much says it all...
Video Killed the Radio Star
The live video man was back, too. Using a Playstation controller, passersby could "play" an unplugged video game. We saw him last year, but this year he had a new "game," entitled
Save the Unicorn
.
Drummers
You get a lot of drummers at Folklife, but these guys have the best costumes (if not the best reportoire...)
Jam Session In Progress
One of the neat things about Folklife is that you never know what you'll run across. We went to what we thought would be an encore performance by the Galway Ramblers. It turned out to be a jam session with maybe 20-odd players from various groups on various instruments. There's just something hypnotic about being able to stand in the middle of live music that you just can't get anywhere else. We stood there and listened until our feet got sore, then sat and listened some more.
Blackthorn
One of our highlights each year is
Blackthorn
, an energetic Celtic/folk/Canadian band. They usually set up in the street before the show to practice and earn a little extra money. (Unfortunately, they set up near the ice truck this year... made the acoustics less than ideal.)
Molasses in the Street
One of those bands you hear playing on the street and feel compelled to stop and listen to... Bluegrassy-type old time music, but they had pep. They were called Molasses, and they did indeed have a way of sticking people in the street.
Rebecca Lomnicky
The last show we saw before heading home. She won the Scottish Fiddle Championships four years ago... when she was 13. Great fiddler, even if she made me feel like a no-talent overage wastrel... but, really, who doesn't make me feel like that?
Well, I suppose I've bored you long enough. Best get back to tackling that camp logo that's been giving me heck. (I actually have it 80% done; it's the last 20% that's fighting me tooth and nail. As usual.)