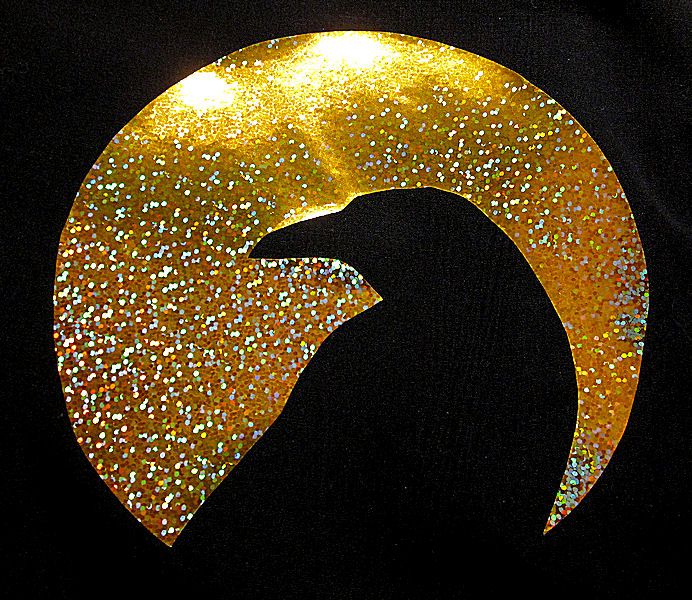 It's that time of year again... time to start holiday projects and begin a new novel while trying, against all odds, to finish up the other projects I'd hoped to have done long before now.
In other words, it's the time of year when one's muse, the inspiration and drive that enables one to even attempt the aforementioned activities, decides to hitch a ride to sunnier climes.
With the exception of a work shirt for Halloween (pictured above, made with iron-on holographic transfer stuff from the craft store), I've finished exactly nothing that I started out to do at the beginning of autumn. I believe the only reason I pulled off the shirt project was because doing so allowed me to procrastinate on those other things. But now I'm left with a bucketload of projects that need doing, some sooner than others, and no muse to inspire me to do them. My story revisions have sputtered out. My holiday projects are languishing in my workshop. My sketchbook hasn't seen a pencil nor a pen for months. My website still doesn't have the new graphics I promised myself I'd do when I topped 900 reviews. And it's eight hours until November 1 and I only have the vaguest sketch of a potential idea for NaNoWriMo, one so vaporous that it's liable to disperse the moment I fire up Writeway Pro to begin.
So, Muse, if you're reading this, please come home. I know you were with me all year, when I cranked out those half-baked story drafts when I should've been doing other things. I know you were still peeking over my shoulder when I decided to put off story revisions to design a holiday shirt for work for no earthly reason. Just because I have nothing left to procrastinate on doesn't mean I don't still need you in my life!