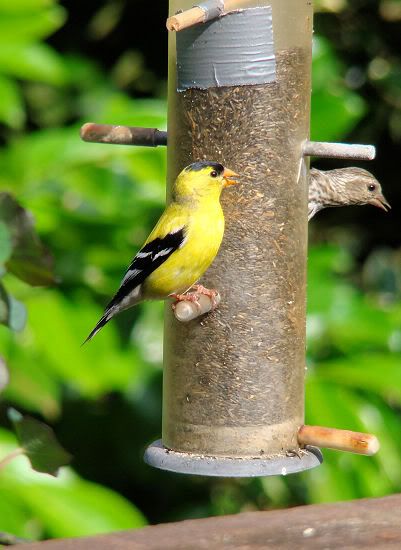 The above is the result of several days of playing camera tag with the local goldfinches. We usually don't have that many - indeed, we stopped feeding nyger thistle seed some years ago due to total lack of interest - but this is an unusual year, apparently. Not only do we have goldfinches hanging around (at least two pairs of them), but the thistle feeder's been perhaps the most active one in the yard; birds'll fight each other for the privilege of a perch. I think it may have something to do with the loss of local thistle fields; most of the open land where they used to find wild thistle has been "reclaimed" in the past couple years. So maybe we're the only game in town for thistle seed eaters. Or maybe thistle is a distant relative of tobacco, and the birds actually are as addicted to the stuff as they act.
Okay, back to the title...
Today being the last day of June, the sixth month of the year, we are now halfway through 2009. In the interest of wasting time and internet space, it seems like a good time to check how I'm doing on that resolution list from January.
Develop More Income Sources. (Bonus: Obtain Business License.)

- Well, I can't claim much success on this front, unfortunately.

Spend at least one hour daily creating. (Bonus: Start online sketchbook.)

- If "one hour daily" can be counted as "one hour daily, at least five/six days a week," then, yes, I'm definitely seeing progress here. At least, I'm doing much, much better on this front than I was last year. As for the bonus, I started my ConceptArt.Org sketchbook on January 1, and the thread's up to five pages. I think I've posted at least one new item a week, usually more than that. Hooray for me... now, if only I could actually start to show measurable artistic growth...

Follow through on at least one creative book/site/course. (Bonus: Develop 2D/3D/animation program skills.)

- I started out okay here, but I seem to have fallen off the wagon somewhere in mid-spring or so. I blame the weather... and the pollen count.


Finish at least one marketworthy story. (Bonus: Submit said story/stories for publication.)

- Nope, hasn't happened yet, though I'm forcing my way forward on a couple of my stalled-out monstrosities; with any luck, I'll be able to check this one off by my birthday. I'm not holding my breath, though...

Overhaul web presence. (Bonus: Relearn "basic" skills - HTML, CSS, etc.)

- After some serious procrastination, I've finally started moving foward on this project. (The observant may note the new Link of Interest - W3 Schools - where one can learn such things for free online.) As I thought, things have changed in ten years, and the stuff I got away with back when I started the sites looks like it won't work these days, or much longer into the future. I think it'll be easier to start over from scratch than simply retrofit my old sites to the newer standards, but if it needs doing it needs doing. Once more, I hope to have something to show for it this fall, but we'll see how it goes.

Organize, clean, weed out my space. (Bonus: Rearrange shelving/storage.)

- I won't lie. I haven't made any progress on this front. If anything, I've backslid. Fortunately, budget issues mean I haven't accumulated too much extra junk.

Walk/exercise at least 3x weekly. (Bonus: Walk even on work days.)

- Eh, what can I say? I have good weeks and bad (a.k.a. lazy) weeks here. Hopefully I can have more good weeks than bad by the end of the year.
So, that's how I've been doing. I feel like I'm doing better on resolution follow-through than I was this time last year, so we'll see if I can carry the momentum through to the end of December.